Bodger's New Day
Black Walnut and Fabric Screen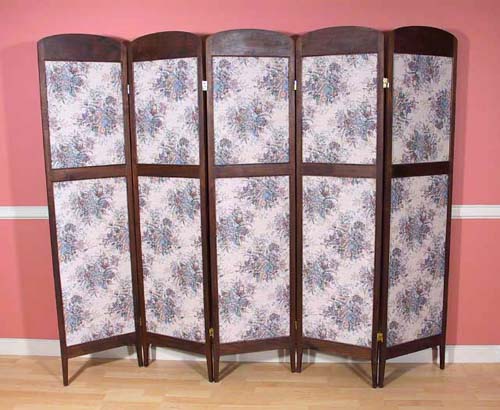 Why do I build things? Most of the time it is pretty easy to figure out: I needed it and didn't have it so I built it rather than buying it. Building is far more fun even though it is often more expensive. I built my bed because I wanted a comfortable night's sleep. I built a chest of drawers to put my clothes in. Simple.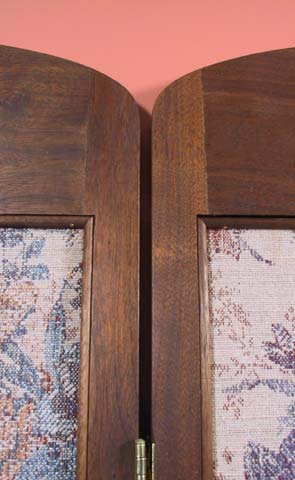 Which leads to the question "why did I build this?". The answer is "damned if I know". I know that I was looking at three walnut boards on my lumber rack that shouldn't have been there. They had been mixed in with a bunch of cherry and because of the dirt and surface oxidation they had been indistinguishable at the sawmill. There wasn't enough there to make any big project out of so they were a problem waiting to be solved. I also know that I had been reading the Rockler catalog in the bathroom and had seen some bi-hinges (motto:"they swing both ways!"). Somehow these separate actions must have fused together in my mind resulting in this five-panel screen. I can tell you in painful detail how it was made but not why...
The screen was built of black walnut as I mentioned, along with some very cheap ⅛-inch luan plywood for the backing of the panels. I couldn't figure out any better way to do it with solid materials so I broke my rule against manmade materials. Both sides of the inserts are covered with heavy upholstery fabric. One is a faded-looking tapestry pattern and the other is a nubby medium brown. I realize now that the latter should have been lighter but it is too late now. The inserts are fitted into rabbets and held in place with ¼-inch handmade moulding with a half-round on one face which is mounted with that face forward to give a bead detail framing the fabric. The mouldings are mitered and held in place with brass escutcheon pins. The openings on the back (brown) face are simply edged in a chamfer detail. The rails and stiles of the panels are joined with deep ¼-inch mortise-and-tenon joints. Finish is in Danish oil which came out a little darker than I would have preferred but it did effectively cover up the two places where I had to dye a bit of walnut sapwood that slipped in. Overall size in inches: 80 X 72 X ¾.
© 1999-2023 by John McGaw — Page last modified: Sat Sep 8 11:25:03 2018
This website does not use cookies or javascript and collects no user information.